Hi, I'm Eva.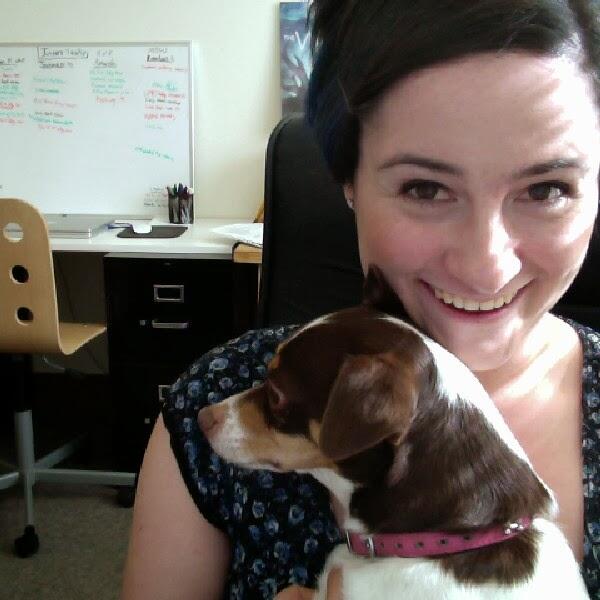 If you don't know me, I'm an early-30's ethical tech strategist who's really into product strategy, dogs, and data. Not in that order, because dogs will always come first.
If you're here it's probably because you're curious about The Total Package or Play the Present.
It's still a bit scary to say this out loud, but here goes: I've founded a care package business. The first service we're offering is Play the Present (launched 3/2020).
Thanks so much for reading, and for your curiosity about this (ad)venture! I'm open to any and all questions and input from folks, as long as the words are both honest and kind.
Email evargantz @ gmail.com or contact me for more info.
What is The Total Package?
I've incorporated this business as a B-Corp. A "B Corporation" is basically an ethical company. It's what companies would be if Elizabeth Warren or Hermione Granger – or Eva Gantz, tbh – had written the bylaws for corporations ;).
It's a bit like a nonprofit, but can make profits as long as all stakeholders are considered (shareholders, yes, but also employees, contractors, customers, community, the environment, etc.)
What is the product?
In a nutshell, personalized care packages by local artists and makers.
Packages can include things like lotion, hand sanitizer, art, chocolates, photo prints, shampoo, soap, bath soaks, and sanitation supplies like bleach and wipes.
We'll also offer comforting small luxuries like chocolate, snacks, and soft blankets. Anything that your kind, low-key psychic, slightly eccentric auntie would send you in a care package? That's something we'd consider putting in a Total Package.
The packages are at varying price points. Right now, they start at $1 and go up to $100+ . One day soon, I hope to offer a "negative" price point, where we can offer cash, no questions asked, that comes with their care package.
Careers / Jobs / How to Help
How to get involved: I'm actively looking for folks to help with the business (see below for details).
These positions are contract, not full-time employment, though I hope that one day soon company will be able to sustainably, ethically offer a comp package for full-time employees.
Email evargantz @ gmail.com or contact me for more info or to apply.
Entry-level is fine, as I primarily need folks who are kind, live your values, ask questions and speak up when you have a question or concern, and learn fast. If you happen to be experienced and have ideas for strategy, even better!
Compensation: flexible, minimum $18/hour guaranteed. Stake/stock in the The Total Package negotiable. I also offer skillshares, including:
How to thrive in tech as a kind-hearted, empathetic person who had a stressful or traumatic childhood
How to be a professional paid writer
How to land your dream job (by reverse-engineering the resume you'll need, and freelancing to develop those skills and experiences)
How to convince anyone of anything (ethically, with opt-in enthusiastic consent at every step)
How to be a social justice x (not just warrior – queen, mage, cleric, etc.)
How to heal childhood trauma (with the help of many therapy modalities and scientific research, of course)
how to make money ethically
how to market/sell anything
how to sell a book with zero budget
how to build a scalable community
Basically, any skill on my Linkedin or website is available to you 🙂
Why this? Why now? Because Care is how we'll survive and thrive long-term.
People are still, even more than a year after the pandemic began, stocking up on basic supplies.
Here's why we need to go beyond basics:
1) There's a reason folks send care packages to loved ones in hard times, or even just because: it is a tangible, visible manifestation of care. Of kindness. Right now, we all need an auntie (or best friend, or mom) who can send us a thoughtful, personalized package of both essentials + goodies.
Not everyone has that person in their life. Or maybe they have that person but they're currently stretched too thin (or too financially thin) to do it. Let's make it happen anyway!
2) Let's show the world that we can have sustainable businesses that nourish the community while we're experiencing a pandemic. AND that those businesses can still make money sustainably, provide excellent customer service, help small businesses and makers and artists, and provide good jobs for the people who work there. Win/Win/Win.
3) Not everyone can afford to stock up on essential supplies, or maybe their local store is out of stuff. We can do sliding scale to make sure price is never a barrier to access, especially once we have a seed round (right now, we're at the angel investment stage).
We can help people access important supplies (yes, including toilet paper).
4) People are often going to neglect the nice-to-have things, like lotion for their dry hands after using hand sanitizer all the time, or vitamins and supplements, or even just self-care stuff like a soothing bath bomb.
This is a marathon, not a sprint, and we need to prepare ourselves. Caring for ourselves is absolutely essential for the long-term strength and health of our communities.
5) For folks who are explicitly interested, we can offer science-backed herbs and high-quality supplements that are shown to help with long-term stress. We'll optionally, and always only with explicit opt-in "yes" from the recipient, include things in the care package like echinacea, elderberry, zinc, etc. (with info from third-party, reputable scientific papers and resources about when, how, why, and when not to use them).
We can also include things like witchy, spiritual crystals and candles for stress, wellness, and luck rituals (for people who enjoy that kind of thing).
Roles/skills
Email evargantz @ gmail.com or contact me for more info or to share your resume.
Roles/skills needed
Note: many of these can be combined and done by the same person.
✔️– CEO/founder: Eva Gantz (hi, that's me). Note: Lyra Levin was a former co-founder, and resigned from the company as of July 2020.
– Investors (folks with some extra money, but no time to contribute directly).
– Makers: artists, jewelry makers, soap/candle makers, clothing makers, leatherworkers, performers, app developers, etc.
– Experience designer / product manager: Manage the end-to-end process of discovering the product, ordering/selecting it, waiting for it to arrive, receiving it, and (of course) the big reveal of opening it like a long-anticipated present.  This should also account for the need for customer support (ex: include a physical business card with an easy to scan QR code or something to contact us for help)
– Head of Operations: Head up customer support + packing/shipping strategy (basically, make sure operations are running smoothly, and think strategically at the same time).
– Customer support
– Curation strategist: basically, poke around online and in local stores and figure out what to put in these packages. Empathy will be key here. and if you're someone who is really good at creating care packages or pampering yourself, even better.
– packers and shippers who actually put stuff together (likely from your own home, or a covid-cautious, one-pereson-at-a-time open-air warehouse)
– Buyers to purchase stuff from local shops, online, and/or bulk buying from Amazon if absolutely needed
– Head of HR (People Operations)
– Head of marketing (coordinate all marketing, social media, publicity, and community management strategy + execution). If there are folks in those roles, you'd manage them 🙂
– Web design/ web maintenance (likely a self-hosted wordpress ecommerce site, possibly also a kickstarter campaign and/or patreon)
– visual design/art (ex: design a nice logo and cover photo art and business card)