Overview
1. MoodGenius App
Content type: UX content design
A mock-up of an app that helps people understand their moods. View the prototype or read more about MoodGenius. All concepts, designs, and content are by Eva.
2. Stellar.org Developer Documentation
Content type: Technical writing
Created a tutorial for developers on how issue assets on the Stellar Network: An Open API for Multi-Currency Payments.
3. Contextual Help Experience
Content type: UX content design
Created Facebook's first in-app contextual help experience, serving 800 million Facebook Marketplace users.
Contextual Help proactively provides people with contextually relevant help and education tips, right from the app. Developed in collaboration with design, engineering, and product management.
(Click to view full-size)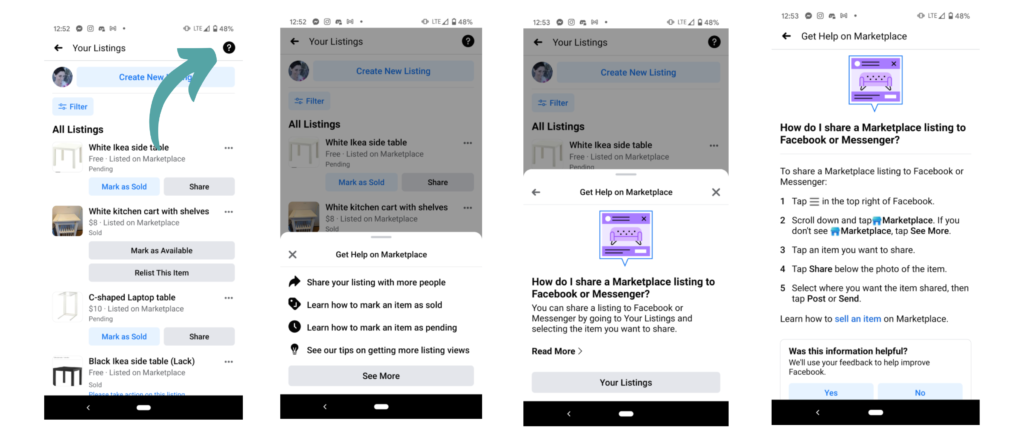 4. Facebook Help Center FAQ
Content type: UX content design
Analyzed Facebook help center data to surface a top user issue — people unintentionally posting items for sale that violated Marketplace's rules, and having their listings removed. In some cases, users were even permanently banned from using Marketplace. People didn't understand what rule their listing had broken, and were frustrated.
Previously, the only information about Marketplace rules was a lengthy legal document.
Worked with the policy, legal, and product teams to determine the most common policy violation types, and summarized them in an easy-to-scan article (see below).
---
What kinds of things can't be sold on Facebook or Marketplace?
All items for sale on Facebook need to follow our Commerce Policies. The Commerce Policies apply to:
Marketplace
Buy and sell groups
Page shops
Instagram shopping
Examples of things that can't be sold on Facebook
Here are some common examples:
Not a real item: Anything that isn't a physical product for sale. For example, "in search of" posts, lost and found posts, jokes and news aren't allowed.
Services: Selling services (example: house cleaning) on Marketplace isn't allowed. Learn more about our policies on services.
Description and photo don't match: The photos of the item must match the description and title of the listing.
Animal for sale: Selling animals isn't allowed on Marketplace. This includes listings about animals for adoption.
Healthcare: Healthcare-related items aren't allowed (example: thermometers, first-aid kits).
Before and after pictures: Items for sale on Facebook can't show a before and after picture (example: a photo showing weight loss).
If your access to Marketplace was removed for going against the Commerce Policies, learn what you can do. If you see a listing on Marketplace that doesn't follow our Commerce Policies, please report it.
Note: The information above summarizes parts of the Commerce Policies for convenience, and isn't intended to change the Commerce Policies.